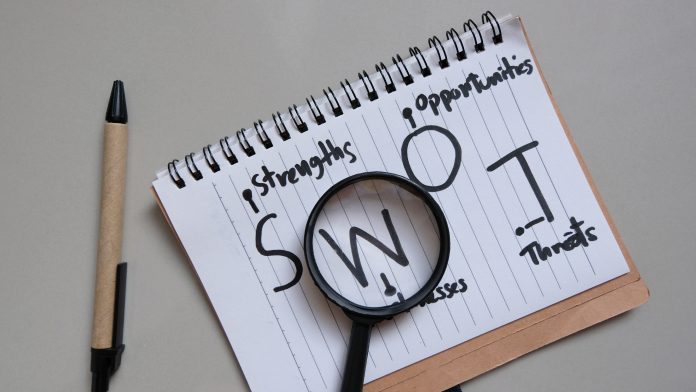 Application of SWOT Analysis in business
For a business to survive in competition, it must identify what makes it strong and what can kill it. The business manager must also do an analysis of the opportunities and threats facing the business. This is known as SWOT ANALYSIS. Companies conduct a SWOT analysis to develop the best strategy to survive in the competitive market. Let's first try to understand the meaning of the term Swot Analysis. SWOT stands for Strengths, Weaknesses, Opportunities, and Threats.
SWOT ANALYSIS is a tool that measures a business's strengths and weaknesses. It identifies the opportunities and threats facing the industry to adopt the best measure for the Company to meet its objectives.
A good SWOT, analyses the internal and external factors and provides a clear-cut strategic planning technique that guides human resources' actions. A SWOT ANALYSIS is an essential tool that helps company managers make critical business decisions after analyzing the Company's weaknesses, opportunities, and threats.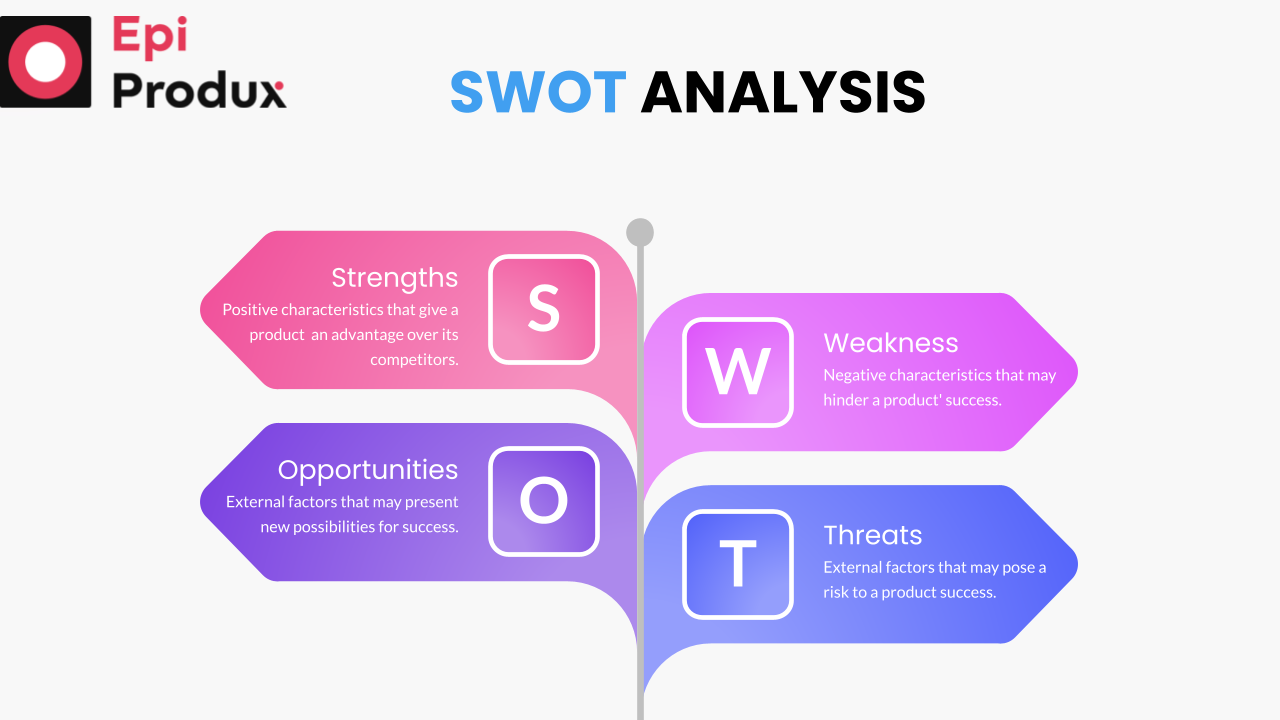 SWOT analysis focuses on four components that help the business make vital decisions toward attaining its core objectives. The first two components (Strengths and Weaknesses) are internal factors that affect business operations. A good evaluation of the internal factors helps the business managers to identify the key areas where the Company can perform optimally and areas that need improvement.
Evaluation of internal factors (strengths and weaknesses)
Strengths
Strengths refer to the business characteristics that may make it advantageous over its competitors. This may include things like sustainable energy, access to raw materials, access to information, possession of assets, etc. Managers must take advantage of Company's strengths and exploit them to help the business get ahead of the competition.
Weaknesses
Weaknesses are things that the business lacks or areas that need improvement. These are the areas in which your competitors are doing well. If the Company's negative elements are not addressed, they may harm the business and lead to stagnation or closure of the entire firm. Examples of threats include limited capital, lack of exceptional skill, and expansion space, among other factors.
The company managers must involve other team members in developing a business plan so that they all move in a similar direction. For the business to remain competitive, it must address its weaknesses.
Evaluation of External factors (Opportunities and threats)
Opportunities
Opportunities generally mean anything that can be done to hasten the attainment of the Company's objectives. For a company to remain relevant, it must identify underserved areas in the market and be the first to exploit them.
For example, managers may identify new marketing trends, emerging technology, and upcoming government policies and adjust their strategy in market positioning. Identifying opportunities helps business managers set the best strategies to keep the business competitive.
Threats
Threats can mean anything that stands as a block to attaining the business objectives. These may include both internal and external threats. Most often, threats result from business's weaknesses, thus the need to change business weaknesses into strengths.
When developing the swot template, the management team must foresee potential threats and create a strategy that guides the business in making the right decisions. Threats may include changes in customer preferences, invasion by natural calamities, and external factors, e.g. violence, external forces, and so on. If not countered, threats may ruin the continuity of the business.
Steps followed when coming up with a SWOT analysis.
Identify strengths
Strengths give the business an advantage over its competitors. Therefore, the Company should always take advantage. The management should highlight all the organization's strengths and use them to boost business performance. Internal strengths like access to raw materials should be guarded jealously before the competitors take over.
Identifying weaknesses
A good business analysis should help identify areas where the business is not doing well and mitigate them. These may include a lack of trained human resources, and limited capital, among others.
Identify opportunities
The business should identify any underlying opportunities that can help boost its market position. Opportunities may include emerging markets, upcoming technology, and so on. So, corporate managers must take advantage of opportunities to create strong brand recognition.
Identify the business threats.
Identifying any external factors that may block the business's attempt to achieve its objectives is essential. These may include government policies, global pandemics, customer preferences changes, etc. Creating a list of all negative factors that may inhibit business growth is crucial.
After identifying the four components, it's time to generate ideas to determine the business's course of action. Swot analysis eases the planning process, where the management makes critical business strategies that help determine the future of the business. A SWOT analysis covers the areas which need to be addressed by companies when making strategic ideas.
When does a company manager use swot ANALYSIS?
Various scenarios necessitate the use of SWOT analysis. A strategic plan is crucial for any firm to thrive in the competitive business world. The SWOT analysis acts as the framework for making critical management decisions. So let's have a look.
Providing Solutions to existing and potential problems
Companies are faced with different challenges which require fast solutions. However, solving these problems requires much effort to avoid compromising other elements. A swot analysis guides the business manager in providing the best solution for the Company to experience growth. The managers use swot analysis to explore new possibilities and help the business attain a competitive edge in the market.
Identify new growth opportunities.
Firm managers must keep exploring new opportunities to help the business gain market. For example, the introduction of new technology can change the market entirely. Any company that overlooks this risks closure; For the Company to continue gaining the market, the systems must be flexible to adapt to new improvements.
The management must keep their eyes open to the latest market trends, which can impact on business growth. Identifying recent trends helps the management make the right decisions that guide the organization's direction.
Provide for change
Customer preferences keep changing, and management must move quickly to stay in shape with this change. A good swot framework reveals any possible opportunities a company needs to tap. The marketing approach must be capable of shifting to accommodate change. A swot analysis provides clear guidelines for change.
Make adjustments to the existing strategies.
Every business must keep adjusting its goals to fit the shifting market. A shift in the customer needs call for an immediate change in strategy. A quick overview of the swot analysis document guides the management on the course of action.
A new opportunity could mean a broader market, while an overlooked threat may lead to total business closure. The swot analysis explores the internal factors and the external factors to identify areas where adjustments are required.
In a nutshell, the SWOT analysis helps the management know the advantages or disadvantages of the business. This guides the managers on where to shift focus or where to allocate resources. For example, a manufacturing company may require acquiring more space in preparation for an upcoming technology that may require more space. Also, the SWOT analysis can help you realize any challenges that may affect your organizational performance.
Application of Swot analysis in strategic planning
There are various points that you must understand when conducting a swot. A swot analysis is not a one-man show but a collaborative approach involving different players. The first thing is to allocate roles to every staff member.
The first thing is to identify the group leader in charge of the whole process. The leader must keep things on track and coordinate all the activities.
List everything in a document and share it with all the stakeholders for reference. Create flip charts and highlight discussion points to ensure nothing is left out.
Identify the swot analysis method and discuss it with all the relevant persons in the organization. Ask questions like, how far are we? Where should we be in the next two years? What resources do we need? Ask the members to suggest more practical approaches and gauge them together.
 Cluster your participants into small groups and assign roles to each group. Make sure the groups are manageable to avoid some members not participating.
Let each group develop its own swot analysis using charts, columns, and a swot matrix. Let the group members brainstorm and come up with their ideas without ruling out any. Let them come up with as many ideas as possible. This helps you get the best ideas and refine them later to develop the best ideas relevant to your organizational goals.
Reconvene the group and let each group share what they discussed. Collect information from each group and record them on the board. Collect different ideas from different groups and put them together.
Now proceed and create your swot framework. Highlight the most vital Strengths your Company has; point out the most critical company weaknesses that need to be prioritized. Capture the most significant opportunities and the worst threats at the organization's disposal.
Engage each group and let them give you what they discussed. For example, (Group one, what did you see as the best strengths? Somebody in group six, please give us the best opportunities your group has noted.) This helps keep every member awake and avoid repeating what has already been captured. Note every point down, making sure no repetitions and no group is left out.
Create an open forum to discuss the highlighted points and have an intergroup discussion. Collect different views to see what each group thinks of the other group's ideas and come to a consensus.
Now highlight the essential items in every category.
Harmonize the swot analysis with your company vision and goals
Adopt the analysis and put it into practice. Share the final document with all the stakeholders and ensure everything is clear.
 SWOT ANALYSIS MISTAKES YOU SHOULD AVOID
Swot analysis can be a powerful strategic management tool when structured correctly. However, if done incorrectly, it may affect the business's potential growth. Let us look at the common mistakes managers make when coming up with swot analysis.
Creating long lists
While it is good to capture every necessary idea, creating too-long lists may distort the final objective of swot analysis. It is essential to capture different innovative ideas, but many may need to be revised.
Vague ideas
A swot analysis should provide clear ideas to help the Company gain competitive advantages in the market. Therefore, stakeholders must understand each point clearly and the main objectives. The internal processes should be clear enough to avoid blocking the core business goals.
Overlooking weaknesses
Many business managers fail to highlight weaknesses for fear of criticism. However, weaknesses are not necessarily used as a basis for complaint. Internal factors can be used positively to create a competitive advantage. Internal weaknesses should be highlighted as they may expose the business to external factors. Get a clear picture of the customers' experiences in real life.
Impractical ideas
Generating ideas is not a one-off thing. It is essential to do thorough market research to ensure that every thought is logical and practical. Ideas must be taken through their logical conclusion to ensure that every practical impact falls into play.
Setting unrealistic goals
The management should look at SWOT as a powerful tool that helps set strategies that best serve the target audience. However, every step must be approached with a lot of reality. One should refrain from imagining unexisting opportunities and threats. The external opportunities must be foreseeable and real before setting up the best strategy to exploit them. It would be best if you scanned the external environment correctly to deal with real scenarios.
Overlying on SWOT analysis
SWOT analyses various elements and helps the management in strategic planning. However, it is not an end; the management must use it alongside other management tools to achieve the organizational goals. The company manager should ensure that all other factors are used together with the swot analysis to achieve the best results.
A swot analysis guides the formulation of the best business strategy but should never be used in isolation. It works hand in hand with other corporate planning tools such as PEST analysis, TOWS, etc.
SWOT ANALYSIS Examples.
This article has captured different examples of swot analysis for companies in the financial and brand industry. Our first swot analysis example is the HSBC BANK.
HSBC BANK SWOT ANALYSIS
 Powerful brand reputation over the world
Diversification of business operations in different areas around the world.
A large market share and a solid customer base
Great financial stability
Strong Global network: HSBC's global reach is one of its most significant advantages
A collaborative working model that supports the employees well being
Investment in the climate strategy that protects the environment
Weaknesses
Potential legal actions
Bad reputation due to past allegations of money laundering and terrorist financing; Trust, once lost, is hardly regained.
HSBC has seen an evolution that has seen the bank change names from Hong Kong Bank of Canada, among other titles. This has weakened brand recognition.
Opportunities
New trends in customer behavior.
Emerging markets like India and China
Expansion opportunities through mergers and acquisitions
A chance to rebuild the Company's reputation
Threats
Adoption of new technologies by competitors.
Immense growth by the local distributors
Inability to offer credit to customers due to massive losses borne by the bank
Changes in government regulations in countries where the bank operates
PRADA SWOT ANALYSIS
Prada Strengths
The Company is popularly known for its quality and uniqueness
Strong association with exclusiveness and luxury
Strong legacy and quality dominance since 1913
A broad customer base from the world over
Annual revenue of more than 4 billion USD
Weaknesses
Intense competition by other brand companies
Imitation of Prada designs which is a threat to the Company's intellectual property
Opportunities
The exploitation of the emerging markets
Use of digital mediums to widen the companies outreach
Partner with other companies in the fashion industry
Collaborate with big retail chains like supermarkets and hotels in an attempt to reach more customers
Threats
High competition for luxury products by established firms
The availability of substitutes affects the profit margin
Economic downturns can affect the consumption of luxurious products
GUCCI SWOT ANALYSIS
The first advantage of Gucci is the growth of its brand value which stands at around 20 billion USD
Partnership with other innovative companies like Alibaba.
Improved supply chain logistics and information chain to create brand awareness.
Possession of multiple stores in various parts of the world, Japan, the U.K., U.S., among other areas
The robust product portfolio deals with a comprehensive coverage; men's clothes, kids' accessories, bags, and so on
A very skilled workforce
Weakness
There have been raising complains about the quality of products
Product upgrade is required, and a considerable cost will be involved in the process
There is a great need for the brand to invest in its reputation to avoid losing its brand value.
Opportunities
Existence of a ready market for luxury products, with china being the market leader, Gucci can target the Chinese market for its products.
Adoption of A.R. and V.R. technology where customers can buy things online.
Use of sustainable methods that are not harmful to the environment
Threats
Very high competition from other luxurious brands in the market
Shifts in consumer tastes and preferences may affect the Company's profitability
SWOT ANALYSIS FOR NIKE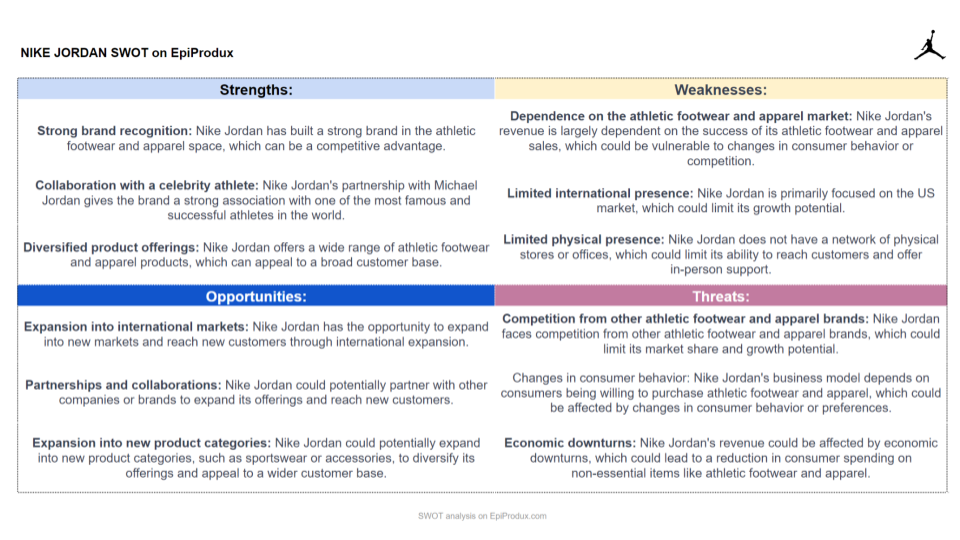 STRENGTHS
Nike is among the world's top-recognized brands, and it's unique. Nike has a brand value of $42.5 billion, according to Interbrand.
Large customer base: Nike serves millions of customers all over the world, with its market cap growing to $232 billion by Jan 2022
Low cost of manufacturing: Nike's products are manufactured in different countries like Brazil, China, Italy, Mexico, Indonesia, and Vietnam, among others which lowers its production cost.
Great marketing tactics: Nike invests much of its revenue in marketing. In the year 2021, for example, the Company spent 3.1 billion USD in marketing alone.
Significant market share: Nike is popularly known for footwear and has captured about 38% of athletic footwear worldwide.
WEAKNESSES
 Too many debts: Although NIKE is known for possessing huge financial muscles, their balance sheets as of 2021 reveal that the Company is wrestling with huge debts, with$9.4 billion of long-term debts
Overdependence on the U.S. market: Even though Nike has a global outreach, the Company over-relies on the United States for its revenue
Pending lawsuits: Nike has recently faced accusations of discrimination where men earn more than women; it's charged with having a toxic culture against women.
Accused of sexual harassment: In an interview conducted by New York Times, Former female staff has accused Nike of having rampant cases of sexual harassment.
Lack of diversification: Nike's overdependence on Sporting items has left other market segments untapped
Opportunities
Upcoming market: Even though Nike has already spread its wings in many parts of the world, emerging markets like China and Brazil have opened great opportunities for market expansion
Introduction of Acquired Artificial intelligence: Nike has a significant financial base and can easily acquire small companies to expand its customer outreach. Recently, Nike acquired the Predictive analysis Platform to expand its online customer base and predict customer behavior.
Innovative products: There is a tremendous untapped chance to make the companies products more innovative and reach more customers
Integration with Metaverse: Nike is exploring an opportunity to market its products in digital platforms where clients can make purchases using their Metamask wallets
Exit from the wholesale space: Nike has announced its move to quit wholesale distribution and sell its products online. This will allow the Company to learn customer behavior directly and strategize
Nikes Threats
Counterfeit products: Nike is very popular for high-quality products. The spreading production of counterfeit products by rogue companies risks the customers' trust in Nike Products.
Economic Uncertainty – All businesses face a global recession, especially after the global pandemic, which has led to a drop in sales revenue. Nike registered a decline of 38% sales decline in 2020.
Very high competition: Nike's domination in the athletic market segment shouldn't allow the Company to relax. Other companies are still offering the Company sleepless nights. Nike is therefore spending a fortune in marketing to maintain a lead in the competition.
Foreign Exchange risks: Since the Company operates globally, any fluctuation in foreign exchange rates negatively affects the Company.
SWOT Analysis with EpiProdux
A small business should carry out a SWOT analysis quarterly, while established firms can conduct their swot analysis twice per year. This helps to track how the Company's products are performing in the market. Companies should adjust their strategies to keep in line with emerging market trends. Corporate managers must identify and maximize opportunities to create new markets. Let's look at some SWOT Analysis examples designed using the Epiprodux tool
Conclusion
Decision-making is a serious challenge to many organizations, irrespective of their sizes. However, some management tools, such as the swot analysis, make the attainment of the Company objectives seamless. You can use the Epiprodux swot feature to create a good Swot analysis for your organization, business, or product.
Product weaknesses create a loophole for potential threats. Hence, every firm must convert product weaknesses into strengths and craft a strategy that best suits the customer's needs. Epiprodux has the best solution for both small businesses and large firms. This analysis tool will help you evaluate the weaknesses, opportunities, and threats and adopt the best strategy for your business, brand, or product. A good Swot matrix should help the management balance the product's strengths and weaknesses and exploit the opportunities to get a competitive edge.
Visit Epiprodux.com and sign up for free to boost your organizational performance, create product opportunities and increase profitability.