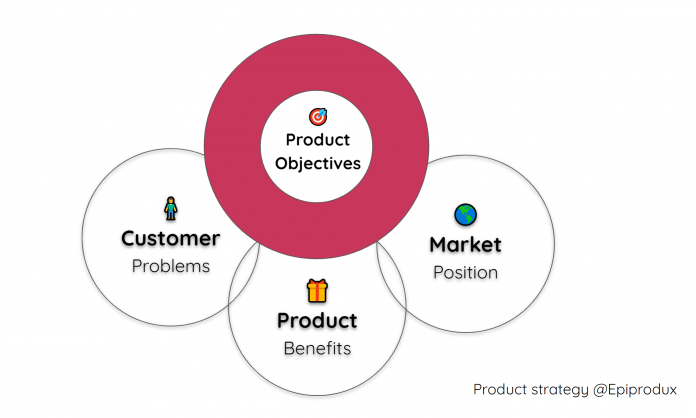 Building a product strategy is one of the most important things you can do as a product manager because it directly influences your go-to-market strategy. And often, it's one of the most significant pain points. Usually, it takes days and weeks to create a product strategy that succeeds. Can you imagine that it would take less than 10 minutes to create one?
Right now, I think that's crazy talk. But at EpiProdux, we've used our product strategy template to eliminate 75% of the time it takes to make something like this. So, what are we exactly going to build? Here is a quick guide for creating a product strategy.
Why is Product Strategy needed?
A product strategy is needed to help you make decisions when building or improving a product and becoming a market leader.
Product initiatives often come up unexpectedly and emotionally by entrepreneurs and managers who always have many product ideas. To make your product successful in terms of revenue and profit you need more than just an idea flash. You need a product strategy that is based on customer and market analytics.
Product strategy supports a business strategy including business objectives. You'll need a product strategy because:
Your solution might be wrong for the problem.
The strategy helps you understand the problem and if your solution is actually valid.
So you can decide what to include in your next release.
Helps you to focus on what is going to drive your business forward.
Strategy forces you to think about the future.
So you can make sure that your product isn't left out of date.
A product strategy will help you build a better product because it will force you and your product team to look at the bigger picture, rather than getting bogged down in details or doing something just because 'that's how we've always done it. A product strategy provides input to your business strategy. Each product with the right strategy ensures the revenue and profit objectives outlined in a business strategy.
It is important to note that a product strategy describes a mini version of your business model. You may want to plan it as a product business model on the Epiprodux platform. A business model represents the customer product-market fit in a nutshell.
If the product strategy is set right the cost strategy will follow. It means that all the operations to produce and deliver a product are organized according to the cost strategy that ensures product profit.
A successful product strategy lowers the costs structure and increases product sales revenue and profit because the product roadmap is built on validated product components.
What are the components of building a Product Strategy?
The product strategy outlines how you reach your product objective and which markets your product will serve. Furthermore, this product strategy defines how that product fits the needs of the target market.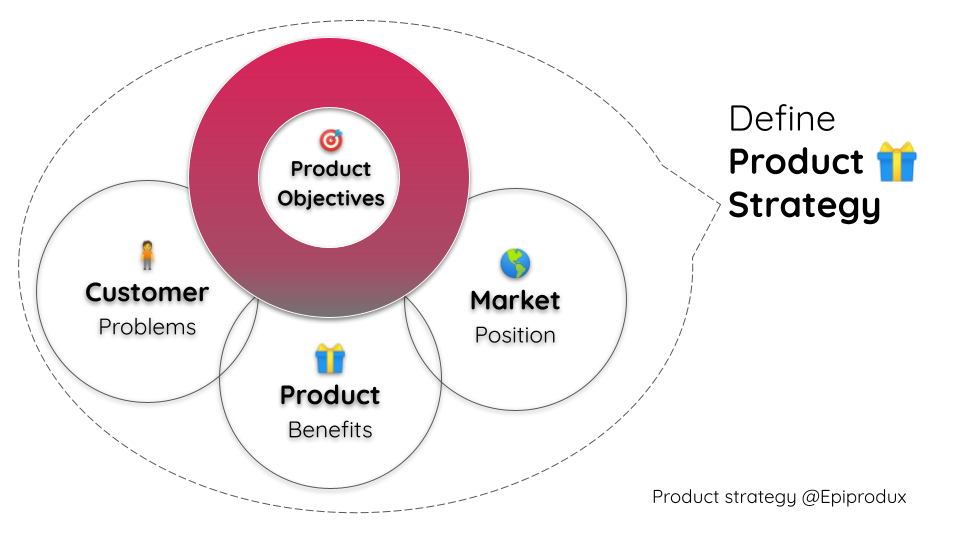 A good product strategy has the following components:
A clear description of the market segment
Well defined customer needs & problems
Unique benefits and differentiators of a product
Product segment and position
Product objectives and key results
What is the Process and Value of Defining Product Strategy
Crafting a product strategy is an excellent opportunity to align your product team around the product roadmap, a guiding north star. It's a chance to think critically about the problem you're solving, the customers you're serving, and the product objectives.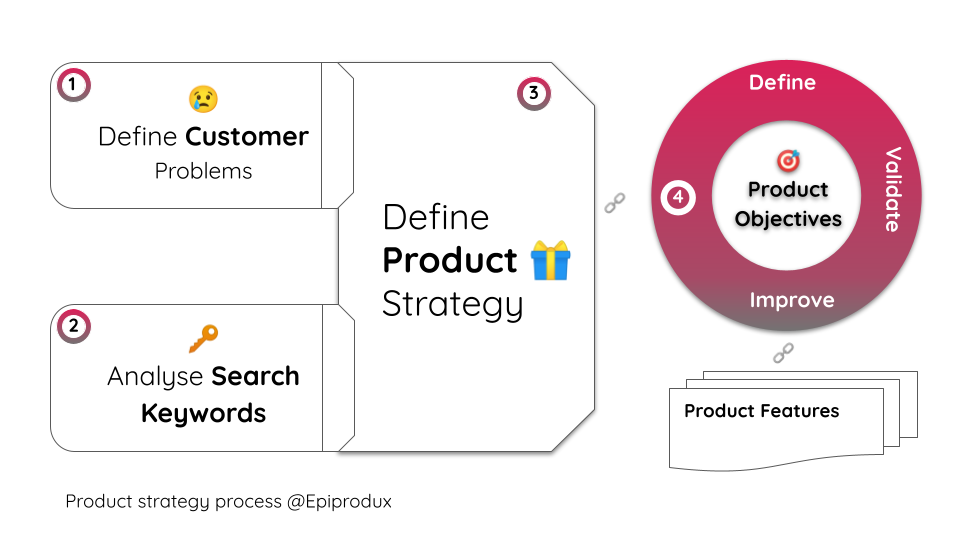 A sound strategy will help the product team to understand your target audience; users, competitors, and positioning. It will also help you make important decisions about your product and marketing campaign and differentiate it from others.
The process of defining product strategies is not a one-time; sit in a room and have all the answers kind of questions. A product strategy process is also input to the product roadmap and business strategy. It is worth noting that it is also an important input to the sales team, development team, and marketing team. Each sale and marketing campaign should lean on a product strategy to make the product successful.
Do not worry; you will not need to be perfect since you will analyze more product strategies as you go through this guide and constantly update the product visions based on what you learn. You will have a concise and intelligent product strategy at the end of this process.
So, how do we build a winning product strategy? Let's look at the process in detail:
Related: eCommerce Product Management
Defining a Product
Everything starts from the product definition.
A product definition is what you need to understand the problem or opportunity. It's the foundation on which all of your product decisions are built. You can't build a product without understanding what it does, who it serves, and where the market is headed.
You may sell one of two sorts of products:
A product is a physical object or service that you may purchase at a shop or online. For example, an Apple iPhone; the brand is Apple, and the product is an iPhone.
Branded items are those that a third party manufactures under your brand name. For example, Tesla cars Panasonic manufactures them, Foxconn makes Dyson vacuums, and Flextronics makes GoPro cameras. These companies use their branding on the products instead of their manufacturer's branding.
Outlining a Product Strategy 
Product strategy is the foundation for any product. It is a guideline for every team member and everyone involved in the product development. It specifies what you sell, why you sell it, and how you sell it; thus, it covers all of the crucial features of your product and business.
Most of us start with just an idea for a product that will be profitable. You want to make money. And you think about how to monetize your product idea.
Product strategy is not set in stone. Many people think they should make the final version of their product strategy only if they have all the data available. They don't realize that they will never have enough data to do anything suitable with their product or startup without a product strategy.
Just try to write the first product strategy about what you know today. It is your product idea, but since you have no the entire data, it will be off the reality. The more you manage your product and plan, the more focused it becomes and the more profit it will bring you.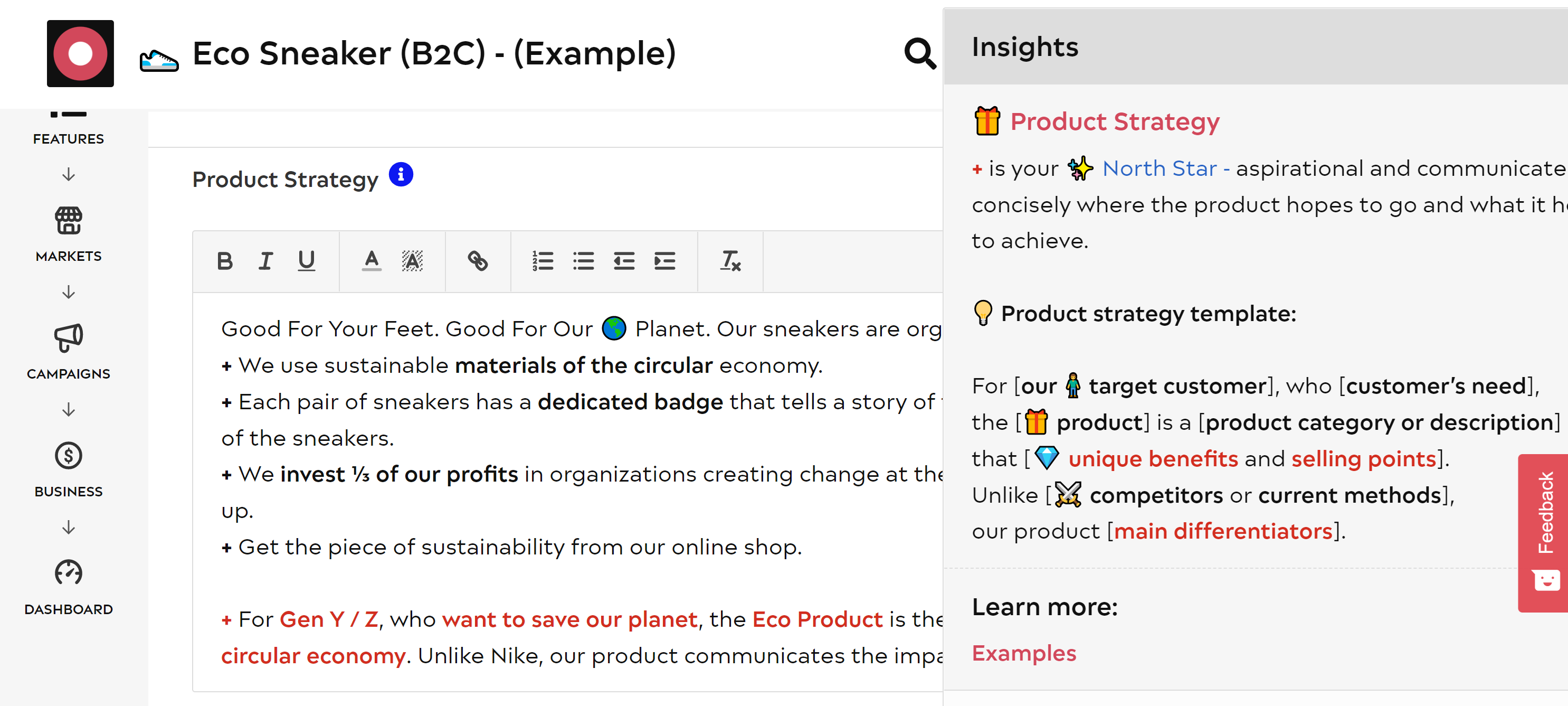 So constantly update your product strategy based on what you learn. Then your product team members can do the work too, make the right decision about sales, marketing, manufacturing, online shop development, or shipping and delivery. A clear strategy makes your product successful.
Define Your Customer Problems to be Solved
The customer problem definition is the foundation of product strategy and needs refreshing all the time. The product strategy works when it is a living organism that constantly refreshes with new knowledge and insights as they come. Your product solves customers' problems with your product features.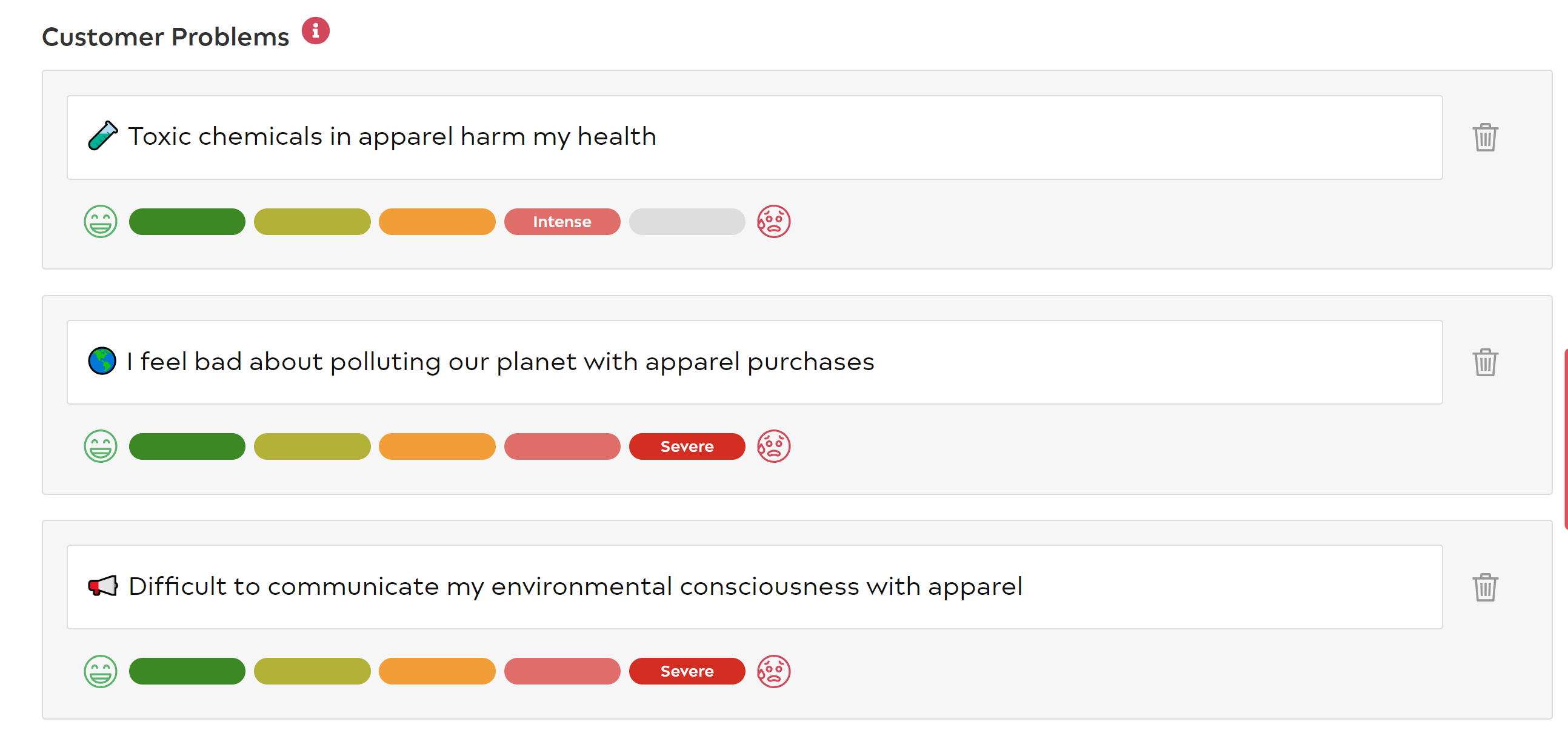 For example, if your product is a voice assistant, you define the primary problem it solves for customers. Alternatively, if it is a social network, you must decide what the immediate issue it addresses for clients.
The most appropriate way to start is to have a list of problems solved by our product and finally decide which one will be the main problem we want to solve. To understand how to improve the product strategy based on customer problems, we have to go back to the concept of having a list of problems solved by our product and deciding which one will be the main problem we want to solve. This is not always easy, but it is certainly important.
How to use search keywords to improve the product strategy
As a product manager, you probably spend a lot of time on the internet searching for new ways to improve your business. You should first check what search keywords people type when they want to buy your products and how much demand is on the market. Epiprodux offers Google search engine data to target your customer, market, product segment, and also marketing campaigns.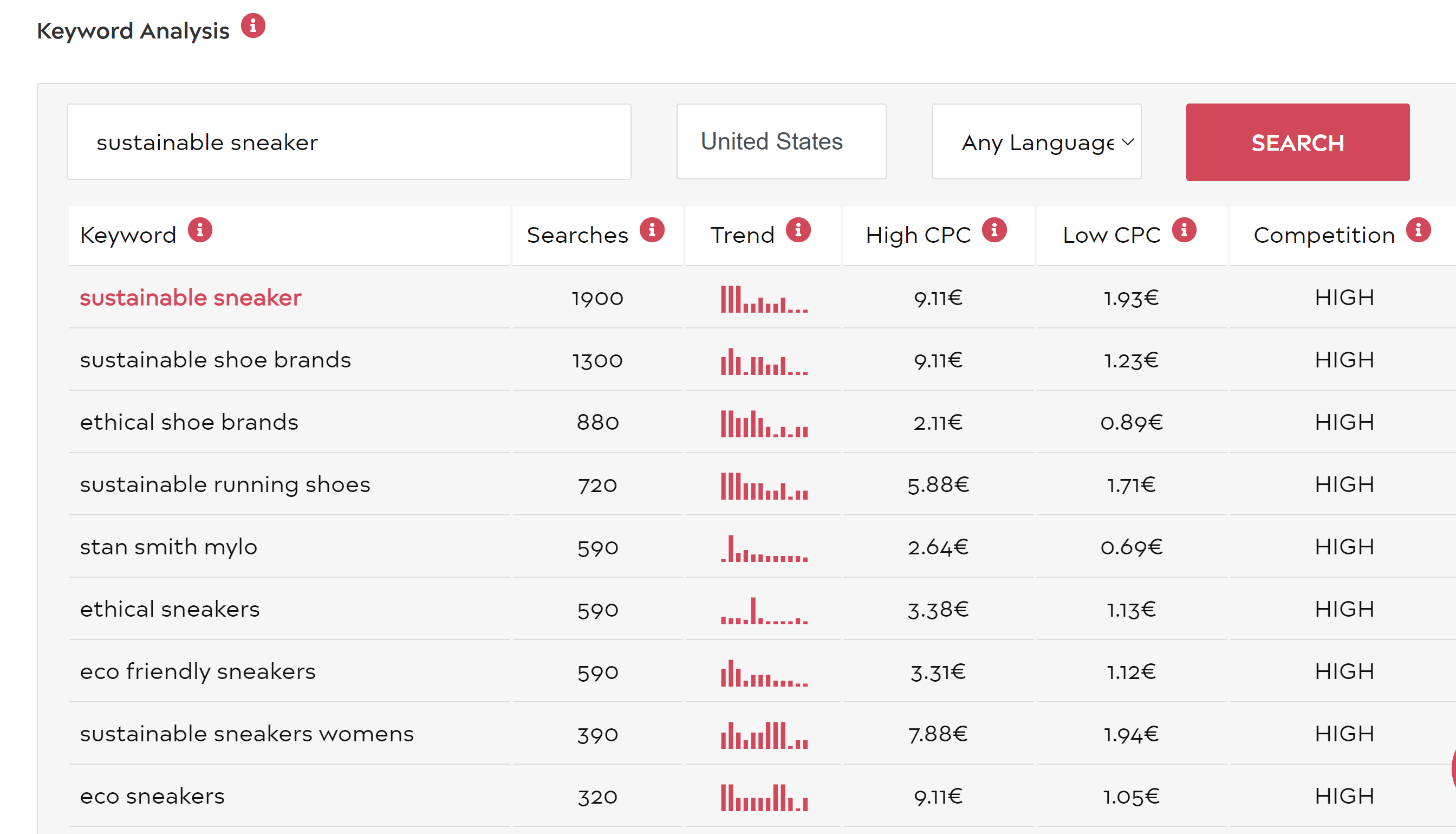 Understand what is the product customers want, by definition and by demand,
The first thing is identifying what people look for when they want to purchase your products. You see, you can define a product in two ways: by its features and by its benefits. Both are important. I suggest that you create a grid with the features on one axis and the benefits on the other axis. Then write down which feature corresponds to which benefit. When you're done, you should have a clear idea of what your product does for people who use it, and for their company as a whole.
Find out the demand for each keyword
Based on search volumes, you can predict in a particular market what products have demand, what customers want, and products they have no interest in, low demand.
It would help if you did many searches to discover the right product customers want. When you have found your product, update your product strategy accordingly and define the product more precisely.
Also, you may wish to update your customer problems based on your product search. It is not just a description of the product but it defines the market and how you will position yourself in it.
A strategy should clearly define your competitive advantage and the value of your offering to customers. Good strategies force you to evaluate each decision against a consistent set of objectives.
Setting the Product Objectives
Setting the product objectives is a crucial step in achieving success. The product objectives are defined through the customer perspective of what customers want to achieve or experience. When we make them too narrow or overambitious, there is no chance we can reach them. So, how do we set the objectives?
By defying these questions, you'll get an idea of how you want to create your product and what kind of team you need to have to achieve good results.
After defining some product objectives validated with customers, update your product strategy definition or research keywords. Note that all the product objectives combined would make up the product vision. This is what great product managers do, set product visions.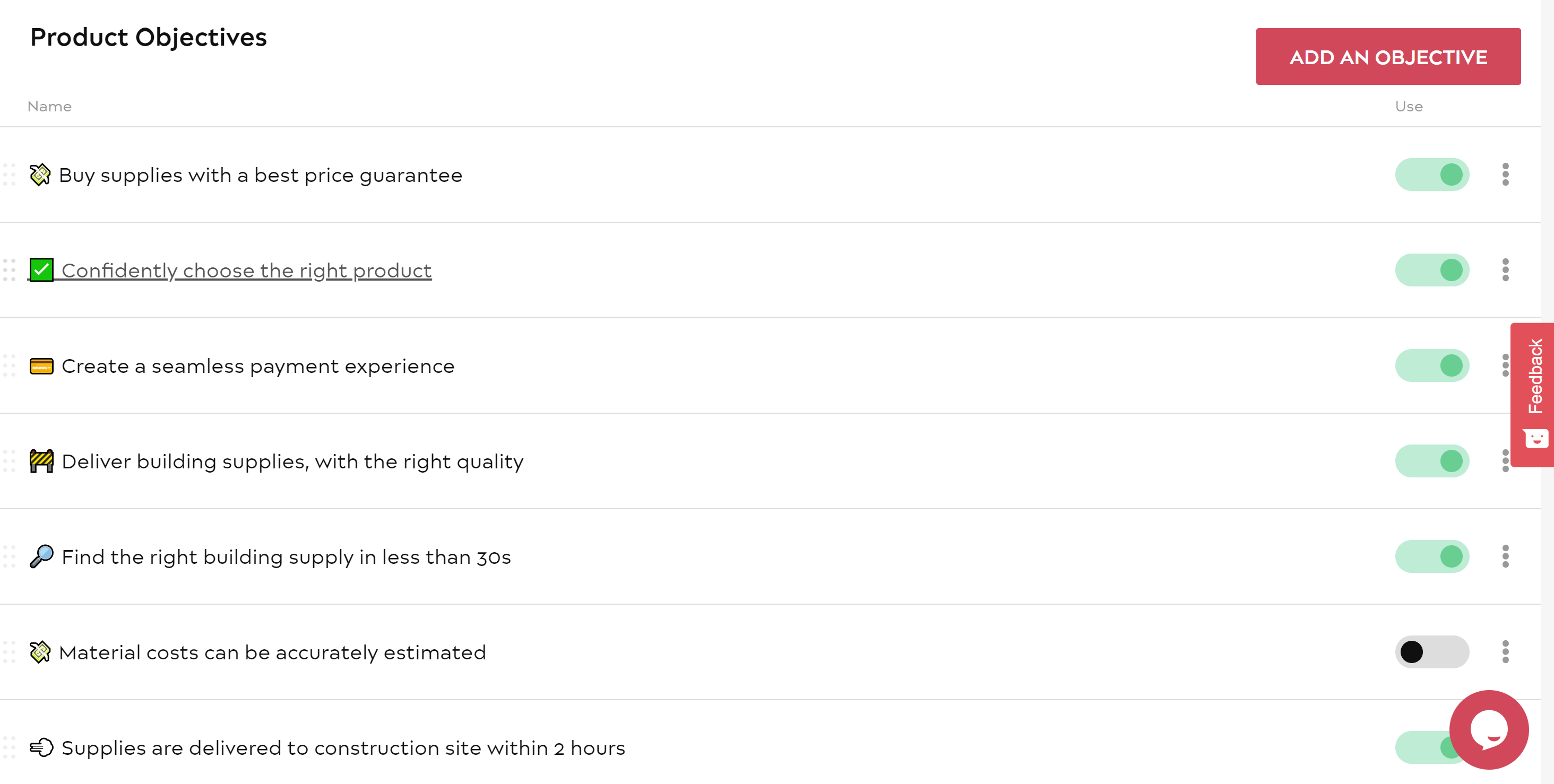 When you start building your product initiatives, you will see you need to give an objective for each product feature, in the end, you will find the need to define many product objectives to guide your product features development since they are the solutions and offer benefits to your customers. Thus, your product vision is implemented through the product features and according to the overall product roadmap. The list of your product objectives can be envisioned as a product vision board, where each product objective is a component of the vision.
Conclusion
When it comes to increasing the revenue and profit of your company, the most important item to do right is your product strategy. This is true regardless of the industry or sector in which you work. It is critical to design your product strategy since it allows you to better grasp what your target audience wants and desires and offer a successful product.
Link your product strategy with the product roadmap and your product success will be imminent. That's why it's critical to develop a product roadmap that contains outstanding product descriptions. It's one of the simplest methods to boost conversions.
Essentially, this is achieved in a 10-minute activity. Epiprodux guides you through the product strategy process of defining your product or service, identifying your target customer, and then developing a marketing plan to sell to them. Product strategy definition is a core competence of an experienced product manager who can outline product strategies fast because they understand customer, market, and product segments in an industry.
Our product strategy template will assist you in comprehending the hard abilities that enable teams to create great products. Product life cycle management is easier with validated product strategies and the product management process could be more fun in your company. To register, go to www.epiprodux.com. Do not start with your product initiatives without a great product strategy.