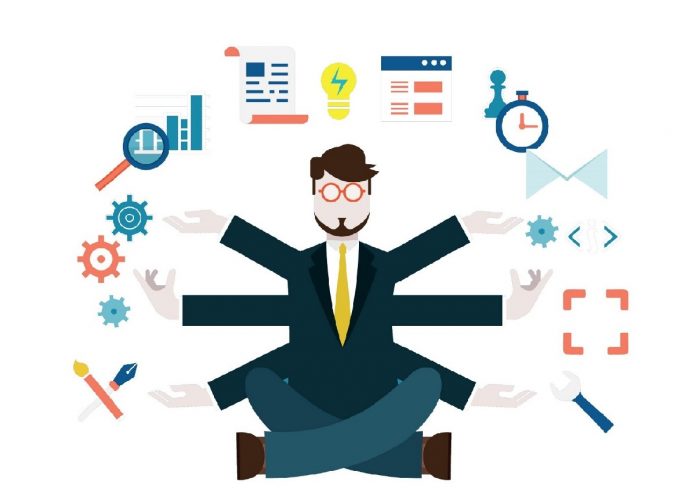 Product management is one of the most critical parts of the e-commerce industry. To keep up with the fast pace of the rise in e-commerce development, traditional product management processes and techniques are often not enough to meet PMs' needs.
For this reason, let's demystify the mystery of product management and see the significant tasks in e-commerce and how Epiprodux can help them save time by automating these tasks.
What is Product Management in Ecommerce?
In a nutshell, think of it as the opposite of Project Management.
As an eCommerce Product Manager, you are responsible for delivering products that meet the business objectives. It contrasts with a project manager responsible for providing the project on time and within budget.
Project Managers focus on cost, scope, and schedule. Product Managers focus on strategy, roadmap, and prioritization.
Project Managers are focused on requirements, implementations, and milestones. Product Managers are focused on the discovery, validation, and learning cycles.
Project Managers tend to be more technical/operational; Product Managers tend to be more strategic/business-oriented.
Product management eCommerce manages and develops items to sell them on an eCommerce site. Product managers in eCommerce companies are in charge of the following duties:
Customer data must be collected, analyzed, and managed.
To develop a product plan based on the data obtained.
To decide on the product's price and placement.
To provide information to web designers on user interfaces.
To collaborate with software engineers to construct a viable website.
Epiprodux is a solution for eCommerce product managers to manage their items daily. It enables product managers to concentrate on the most crucial aspect of their job: ensuring that their products are relevant and profitable. Today's eCommerce business is incredibly competitive, and it's easy to get mired in the minutiae of day-to-day operations. Product managers must find a method to be organized and productive while keeping a larger vision in mind. Both are possible with the Epiprodux platform.
Product managers set the tone for how successfully a company will perform in the marketplace. They are in charge of developing strategies that assist businesses in accomplishing their objectives and building connections with consumers, vendors, suppliers, and other stakeholders.
Product management is one of the most challenging yet rewarding positions available in business today. It blends technical expertise with creativity and leadership abilities. With all of these duties in mind, what precisely does an eCommerce Product Manager entail?
What are the Roles of an ECommerce Product Manager?
Product management has a broad definition, and a product manager's role varies from company to company. However, a product manager's primary responsibility is to create and execute the right strategy for their product to solve customer needs and meet business goals.
PMs typically have a bachelor's degree in marketing, business, or communications. In addition, most employers require three to five years of experience in marketing, business development, or sales.
The role of a product manager is complex, requiring both strategic and tactical execution. The right product manager should be a strong leader and know when to collaborate with others, have excellent communication skills, and effectively prioritize and execute tasks to keep the team on the same page.
Here are some of the roles of product managers:
Meeting the Business Objectives
A business aim is a goal made by a firm to define and accomplish the desired result. These objectives are part of a formal plan that specifies how the company will achieve these goals, what resources will be employed, and what milestones will be reached along the way.
Product management is critical in the eCommerce industry for accomplishing an organization's commercial goals. Product management's business goals are to guarantee that a product is created, launched, and maintained to maximize revenue and profit.
Revenues minus expenses are used to calculate profitability. Sales create revenue, whereas costs comprise all payments for the fulfillment, marketing, support services, development, etc. It also contains a gross margin that must be large enough to pay all other costs.
Related: What Does an Ecommerce Manager Do?
Product Strategy and Objectives
Here at Epiprodux, we are experts in eCommerce product management.
Product strategy and objectives are two of the most critical factors in determining the success of your online store.
Product Strategy – is a long-term plan that supports your business'' overall goals. It also identifies ways for your business to generate growth and revenue through products and services.
Product Objectives – are short-term milestones that support your product strategy by providing a focus for those working on the product development team.
Make sure your product information is clear and concise. You don't want customers to get frustrated because they don't know what they're buying when they buy it. Also, keep the descriptions short and sweet so customers can quickly identify your products.
Market value. Estimate how much your customers will be willing to pay for your product. Remember, price is only one part of the equation. The other part is how well the product fits their needs and how much they'll be willing to pay for that fit.
Identify the benefits of your product and include them in the description and sales copy. Benefits are what makes the product unique and why people should buy it. Use gifts as selling points to help demonstrate why they should buy it and get them more excited about purchasing, just considering it an alternative to other options out there right now.
Product keywords
You can use keyword tools such as Google Keyword Planner to understand what words people search for products like yours. For example, if you sell women's clothing, you might find that people are searching for" dresses," not" attire" This is a great place to start.
Once you have the basics, it's time to get more specific. Think about the main topics of your product description and consider how these would show up in a search query. For example, if your product description is primarily about caring for sensitive skin, and one of the main ingredients is aloe vera, include those terms in your product keywords.
Example: Product Description =Women'ss Sunscreen: Perfect for Sensitive Skin with Aloe Vera
Product Keywords = sunscreen women's, sunscreen sensitive skin, sunscreen aloe vera
Customer Segmentation & Pains in Jobs to be Done
Prioritizing consumer demands and connecting them with your company's essential skills is known as product management.
When done correctly, it may be a very effective instrument for achieving great customer experience and corporate success. When done incorrectly, however, product management may result in a lack of focus, a long time to market, and a weak competitive edge.
The eCommerce product manager is in charge of determining the trend and the impacted client group.
Outline your consumer segment's pains as they presently exist (pre-solution pain), and then define their benefits if they could fix their issue (post-solution gain).
At EpiProdux, we define Product Management using the methodology shown below:
PMs are in charge of increasing the value of a product over time by prioritizing and fulfilling customer tasks.
PMs must maximize the amount of product-market fit possibilities within their category to increase a product's value. Companies must first identify the jobs consumers employ in their class and present products that fail to perform these tasks. Then, utilizing metrics and learning loops to drive their decision-making, PMs may prioritize which opportunities to pursue.
You understand your clients better than anyone else. You interact with people regularly and know their wants, needs, desires, and frustrations.
Find the key product characteristics that will assist your consumers in transitioning from pre-solution pain to post-solution gain. Iterate through each step, gaining user feedback along the way until you have a viable product strategy.
Who is your ideal customer? What are their hobbies and interests? What do they do for a living? What is their typical day like? What are their stumbling blocks when it comes to purchasing what you sell? What would make their lives simpler while looking for your products?
The most straightforward approach to answering all of these questions is to get out there and chat with your prospective consumers. Examine them. In-person or over the phone, ask them questions. Have an open discussion about why they like and dislike your products.
Related: Customer Experience in Fintech
Products Features
Product features are the bricks and mortar of your product design: they define what your product will do, how it will work, and what it will achieve.
It's not just a case of writing down what you want your product to do. The process of identifying and specifying your key product features is a central part of the product discovery process. If you don't know who your users are, what their needs are, or what problems they face, you're unlikely to be able to identify the right set of features for them.
This is why product managers have to think strategically as well as tactically. As well as defining the specific components that will make up your product, you'll also need to consider its overall structure, user experience, and interaction model — as well as how all these elements will fit together into a coherent whole.
To help you create an effective set of product features for your next project, we've created this list of best practices and practical advice.
Market Segmentation
Market segmentation is a marketing strategy that involves dividing a broad target market into subsets of consumers who have everyday needs and then designing and implementing strategies to target their needs and desires using media channels and other touch-points that best allow them to reach.
The target market is the ultimate determiner of your products. If you don't have a clear idea of who your target market is, that's a problem.
The biggest mistake companies make with the TAM is overestimating it. They often forget that a target market doesn't everyone on earth" This can lead them to overestimate their potential sales and end up losing money instead of making it.
Serviceable Available Market (SAM): The market size within your target audience that represents sales potential for your company (the segment of your TAM that you can reach).
Epiprodux helps you find your way. It focuses on the methodologies that work to ignore shiny objects. It guides you through creating a market segmentation that lays out how you'll market your product.
Marketing Campaigns to Get Sales
A marketing campaign is a sequence of activities meant to assist you in achieving a specified objective or set of goals. It will require a plan, a budget, and a way to measure success. Ideally, it will also work well with your other business activities and promotions.
Marketing campaigns are one of the most effective ways for eCommerce businesses to engage customers and get repeat sales. You can run many different movements, from email and social media to loyalty programs, and even company newsletters can sell more to existing customers than new ones. And it's cheaper to sell more to existing customers than to acquire new ones.
Existing customers are an untapped goldmine for many eCommerce businesses. It's a lot easier to get someone who already knows and trusts your brand to buy from you again than it is to convince a new customer to take a chance on your store.
New Customer Campaigns
Getting new customers is one of the most exciting elements of eCommerce. There are a few different ways to go about this. You can offer a discount or free shipping in exchange for an email address. You can also use ads to drive traffic to your store to find new customers.
The gift/email capture campaign is one that eCommerce stores use all the time, and it works! People give up their email addresses in exchange for a coupon or something they can use right away.
To make your email marketing campaign a success, you need to determine what drives your customers to make purchases.
The best way to do that is with segmentation. It's the practice of dividing your audience into smaller groups based on common characteristics and needs.
By segmenting your audience, you can create much more targeted, relevant, and effective campaigns. In other words, they are more likely to appeal to people who are likely to respond positively.
You can also use Facebook ads to send traffic straight to your store, which is excellent if you have a strong conversion rate optimization strategy in place.
Management of Operations and Costs
The key to effective product management is keeping track of all the costs associated with each item or service you offer to consumers. This includes direct costs like manufacturing, as well as indirect costs like inbound shipping and handling.
Direct costs are those that can be directly attributed to a specific product. These costs include the cost of manufacturing, packaging, distributing, and selling each item.
Inbound shipping and handling-If you're sourcing products from a manufacturer or wholesaler, you'll need to be aware of the costs of having them shipped to your warehouse or a third-party seller.
Epiprodux software can help you control your products" costs and expenses. You'll track the costs separately for every product, so if you're selling multiple variations of one product — like t-shirts in different sizes and colors — you can follow their prices.
Once you know what you're spending on each product, you can accurately determine your profit margin and make informed decisions about pricing and marketing strategies. You can also use this data to streamline operations so that you're able to decrease costs without sacrificing quality.
Conclusion
Ecommerce product managers are at the center of their organization's sales efforts, and they are well placed to understand consumers and sellers on both sides of the eCommerce equation. They are also in charge of coordinating the large-scale workflow between these two groups, which must be linked and automated inside the web platform.
We decided to develop a software system that understands product management to assist e-commerce shop owners and e-commerce product managers in growing their businesses while improving profitability and sales. Epiprodux helps you keep track of various items and their expenditure vs. profit so that you can choose which products make sense for your business in the future.