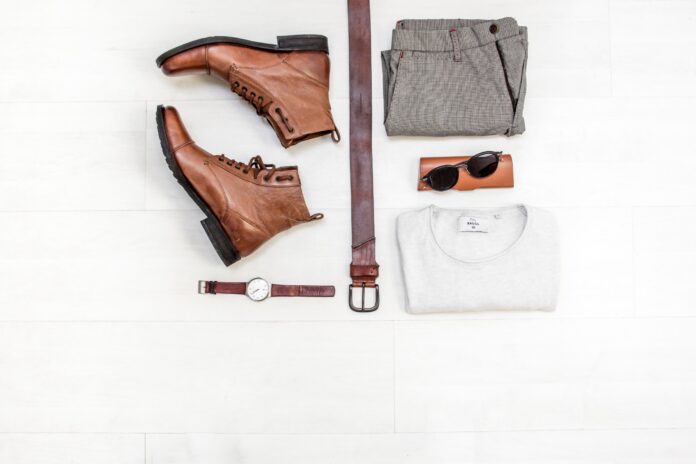 Are you active in the fashion industry as an apparel company? That's great! 
However, as you already know, the clothing industry is highly competitive, with an estimated worth of 1.9 trillion US dollars. 
The most prominent apparel market, by far, is the United States and some of the highest-earning clothing brands include famous houses, such as:
Old Navy

Victoria's Secret

Gap

American Eagle Outfitters

Coach 
So, how can you successfully compete with such world-renowned names? In fact: Just trying to gain a foothold as an established apparel label is a formidable challenge.
But it's not impossible. 
It's a matter of choosing the right products and managing said products profitably. 
How to do that: Effective preparation is one of the most critical steps when launching a new product line— that includes market research and competitive analysis. 
What do these terms mean? And why are they so important? 
In this article, we'll explain everything you need to know about skyrocketing your clothing brand. And also advise you on doing both types of research conveniently with EpiProdux. 
Let's get started!
What Is Market Research and Competitive Analysis?
Market Research
Market research involves gathering information on the needs of your potential customers and determining how viable your new products (or business) will be in today's highly competitive fashion industry. You can conduct market research to develop a clear idea of your target market, collect opinions from actual consumers likely to purchase your products, and reduce the risk of releasing goods nobody wants or needs. 
Market research puts you in direct contact with potential consumers who have the shopping experience to provide valuable and actionable feedback. 
Use market research to:
Recognize your target customer's pain points, expectations, and tastes;

Segment markets to deliver the right products and messaging to the right consumers;

Explore new markets and the potential they offer;

Identify opportunities to create new products and test them to determine the viability;

Gather information on price points to align with customer spending habits;

Prioritize the most valuable and popular products based on trends and feedback, which helps you increase sales and reach out to a more extensive consumer base;

Experiment with marketing techniques and messaging;

Gain insights into your competitors;

Learn about customer satisfaction and how you can cultivate it with your products and service.
Competitive Landscape Analysis 
Your clothing company has many competitors. 
That's unavoidable. 
It's the nature of the business. 
You may have direct competitors (targeting the same audience with a similar product) and/or indirect competitors (targeting the same audience but with a different product).
That said, the number of competitors you have, and the scale of their operations, vary depending on your target market. 
For example, you might have fewer competitors if your business specializes in high-end, luxurious, organic men's socks than if you wanted to create fashionable clothes for males and females in their 20s and 30s.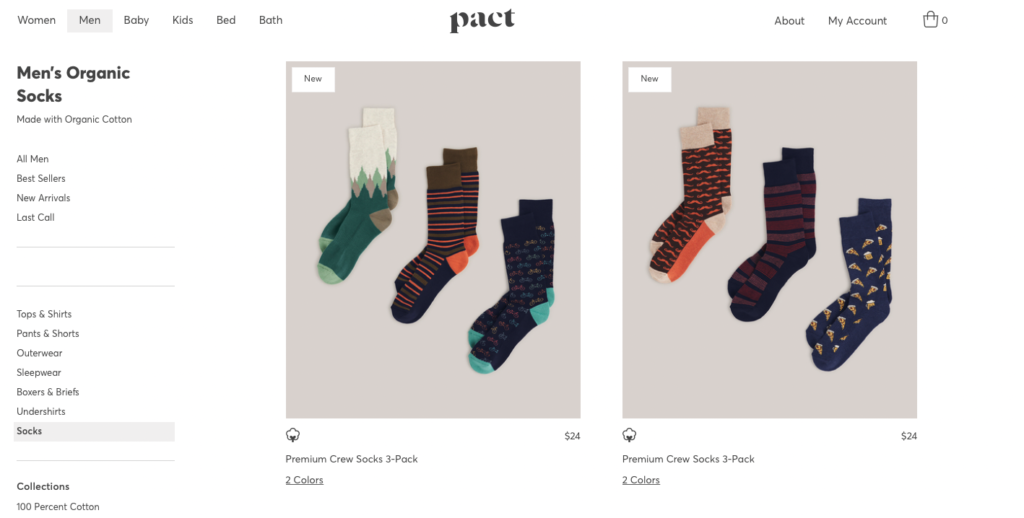 Source: Wearpact
OR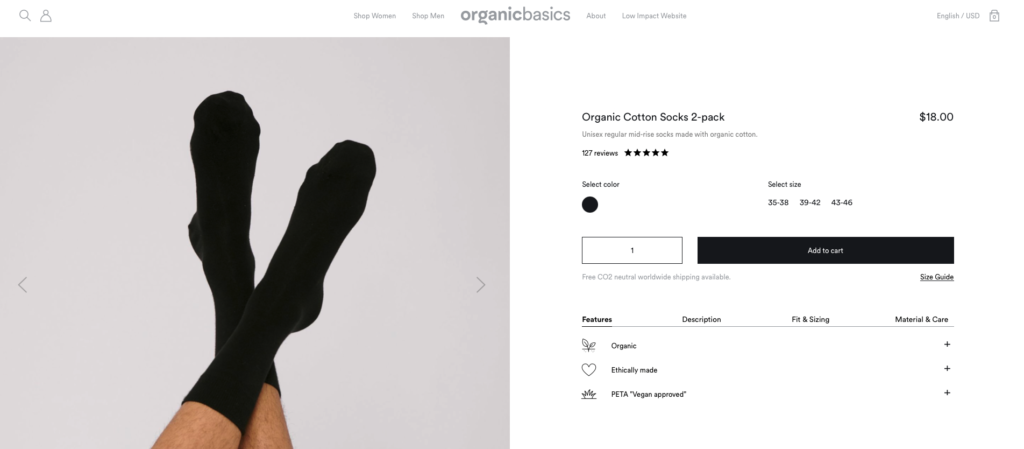 Source: Organicbasics
Regardless of your target market, though, competitive analysis is fundamental to understand the level of competition you face. 
Competitive landscape analysis encompasses multiple areas of assessment:
Company (revenue, customers, branding)

Products (features, prices, manufacturing processes)

Marketing methods (digital marketing, offline marketing, channels, customer service)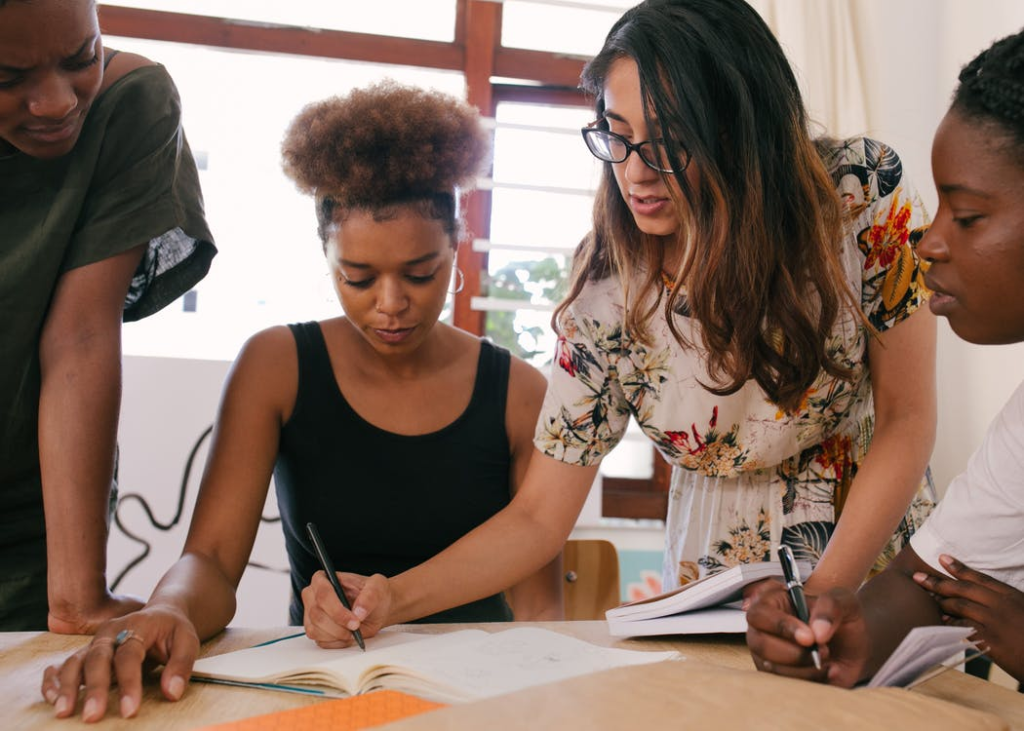 With competitive analysis, you can pretty much gather a wealth of data to help you compete with competitive brands more effectively. 
Competitive analysis offers several benefits. It can help you:
Define your Unique Value Proposition (UVP), also a powerful EpiProdux feature;

Create priorities in your product development based on those elements customers most value;

Make better products and deliver better service by being aware of competitors' weaknesses;

Set benchmarks for monitoring and measuring your growth over time;

Identify market segments that your competitors may overlook and find new ways to gain a more significant market share;

Recognize opportunities to launch products for an underserved demographic to stand out from competitors.
How to Conduct Competitor Analysis
Competitor analysis is critical. Not least because you can use their data to determine your goals, marketing strategies, tactics, new product lines, pricing, and more. Use competitor analysis to:
Determine how strong the competition is

Find opportunities to stand out from the competition

Decide the pricing for your product
There are a few techniques to find out who your competitors really are. You can start with a Google search, but bear in mind that this will only show you the competition that ranks in the search results. Here's how to find your competition online:
Decide the keywords related to your product and business

Google the terms and make a list of the websites that are ranking in the top ten. 

Review their offering to find out if they are competitive. 
What's more, you can also use various online tools to find out who your competitors are. The caveat with this technique is that the tools only really work with companies with a high website traffic volume. 
Here are some tools that you can use to find competitors online:
Once you have a list of your real competitors, you can now dive into their data. Find out what keywords they are targeting either via paid or organic search. Use tools like Ahrefs to determine what keywords they are targeting, which pages most of their traffic lands on, and other key metrics. 
For every relevant keyword, find out the following data:
Keyword volume: How many people search for this term per month;

Keyword difficulty: How difficult is it to rank for this keyword;

CPC: How much are your competitors paying for clicks through on these keywords. 
How Many Competitors Should You Compare?
The answer depends on your time, your budget, and your available resources. Clearly, the more, the better is true here, but we have to be realistic about what can be achieved. 
As a general rule of thumb, 3 to 5 of your biggest competitors would be a great start and should give you plenty of data to use.
Keyword Research
When conducting your market research, you MUST also conduct keyword analysis. While this is often used for SEO purposes, you also use keyword research to understand what your target audience is searching for, the intent behind their searches, and the search terms related to your competitors.
Keyword research helps to:
Indicate the size and scope of the demand. The more people are searching for your product, the higher the demand;

Determine the level of competition. The higher the bids on CPC, the more intense your competition will be, and the higher the purchase intent. 
How to Define Your Keywords
Before diving into the data for specific keywords, you need to know what keywords are relevant to your business and product.
To find keywords, you can explore forums, social media groups, and Q&A sites. These are a goldmine of information. Find and save common phrases used by your target audience.
On top of this, your competitors are also a valuable resource. Find out what search terms they're targeting either organically or on their paid advertising campaigns. There's a good chance if they've gone to the effort of creating a landing page or an ad campaign targeting a specific keyword, it's a valuable term. So, find out which pages are driving the most traffic to your competitor's sites. 
You can also use Google to find out the search terms. Simply enter your ideas for keywords and see what ranking is. See whether the first ten results are similar to your product and have a similar intent. In addition, you can use Google autosuggest and the search snippets to see what Google presents in the top spot, too. 
Armed with your list of keywords, head over to EpiProdux. In the Product Profile, enter keyword(s) to determine the search volume, keyword difficulty, and the average cost per click. 
Your keyword research will help you decide what products customers want, what information they're searching for, and how much monthly demand there is for a product. 
Remember to consider the intent behind a search. Try to understand where a customer is in their buying journey. For example:
Informational Search Intent
Informational searches are related to the start of a customer journey. The buyer is educating themselves about how best to solve their problem. They have pain, but they're not yet sure of the solution. 
Examples of keywords include:
Best material for hot weather

Which hiking boots are waterproof

Best type of pan for frying
Navigational Search Intent
Once a customer has learned more about their problem and found the type of product that solves their problem, they will search for the specific product they need. These are navigational queries, and they drive a user to particular solutions. 
Examples of keywords:
Hiking shoes

Linen trousers
Commercial Search Intent
These are your money terms. Hooray!
When a customer has determined the exact solution for the pain and is ready to buy, the search terms become laser-focused on purchase intent. That is where you will find the highest CPCs.
Examples of keywords:
Buy linen trousers near me

Waterproof jacket less than $50
Examples of How Fashion Brands Use Market Research and Competitive Analysis
New Look
New Look steers away from competing on high competition non-branded terms when it comes to paid advertising. Instead, the focus on bidding for branded keywords like this: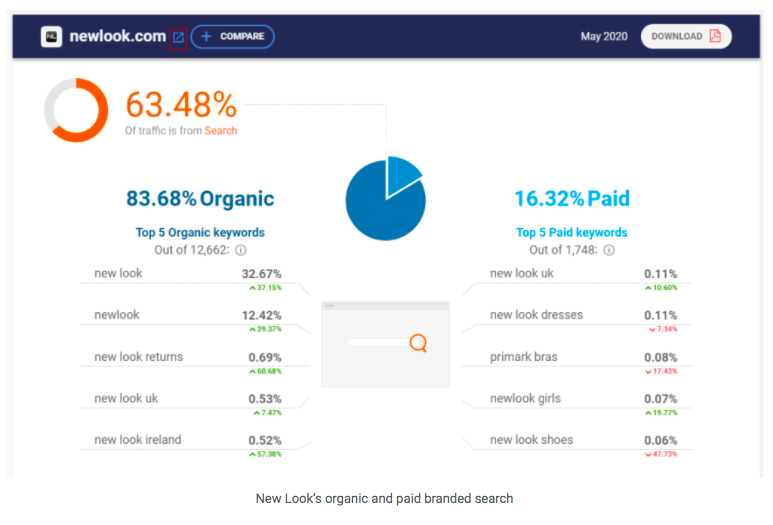 Farfetch
Farfetch gets more than 4 million visitors per month from SEO tactics. This traffic is from people searching for luxury fashion brands like Versace, Givenchy, Burberry, Saint Laurent, and Valentino. 
We can also see that Farfetch uses highly targeted ad copy for specific keywords which are neatly aligned with their landing pages.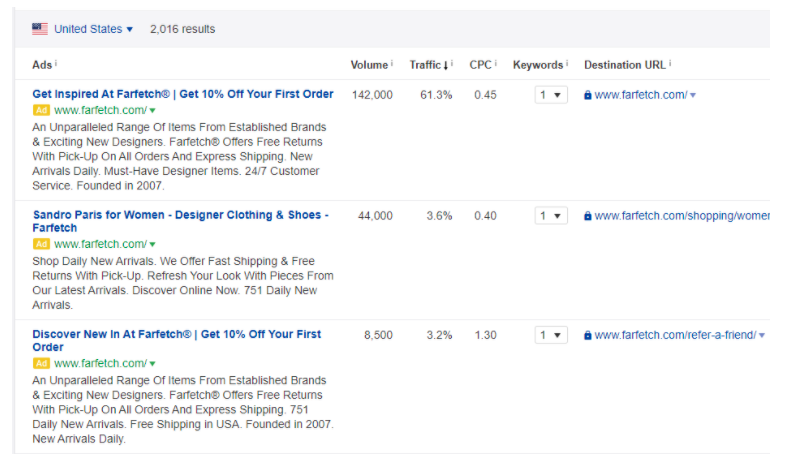 Like search engine optimization, the essence of paid search is to attract people in need of Farfetch products when searching for them.
Zara
A vital part of market research is listening to consumers and paying attention to what they can't find. This applies both during the early stages of building your brand and when you run an active presence.
For example, the fashion brand Zara is renowned for its direct approach to research.
One famous case involves multiple customers in Tokyo, Toronto, San Francisco, and Frankfurt entering Zara stores to purchase a pink scarf, only to find none available. At the same time, many other customers started to experience the same issue around the world.
It's not that these branches had sold out: Zara didn't have any in its collection. But more than 2,000 stores received stock of pink scarves, and 500,000 units sold out within three days. 
Similarly, Zara trains its in-store managers and sales assistants to be aware of customer shopping habits. Workers are encouraged to research behaviors and trends right in their stores. They do this by listening to customers' comments on clothing options, suggestions for improving products, and studying what shoppers are wearing to inspire Zara's new products.
It's not hard to see why Zara's brand value is $14.7 billion as of late July 2020 and operates in more than 95 countries. 
How to Do Market Research and Competitive Analysis Quickly and Easily 
EpiProdux helps you streamline your market research reports and competitive analysis with user-friendly tools. We'll break the process down for you to help you hit the ground running. Start by signing into EpiProdux and choosing a product. You'll see the Product Profile and Product Objectives.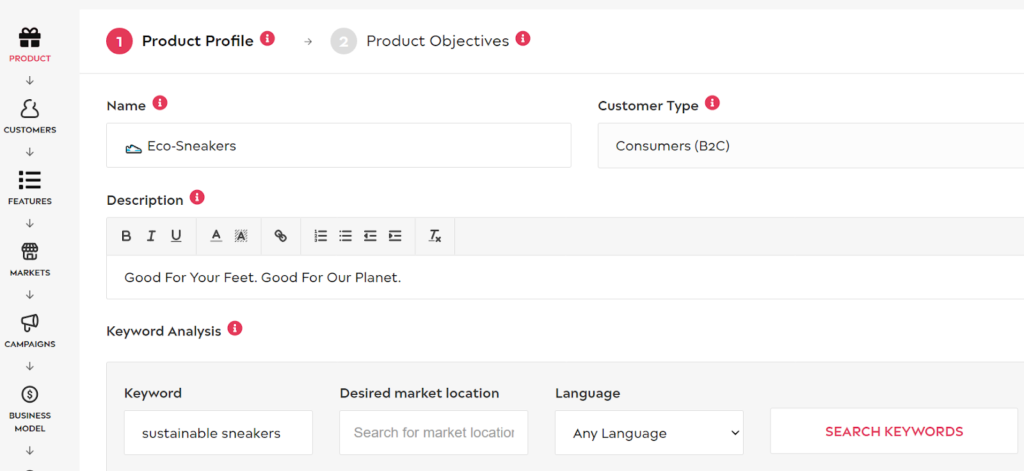 Next, click on the Markets icon on the left side of the screen. This will take you to select relevant markets for that product, e.g., California Organic Apparel. 

In the Markets section, view the Details section to run a competitive analysis. 

By doing so, you define:
Total Competition, based on such factors as market position, keyword difficulty, product strength, pricing, and funding, to name a few;

Ease of Access to see how easy it's to enter the chosen market.

Ease of doing business in a specific country based on policies and current infrastructure, so you can plan how to take your first steps in that location;

How easy Trading Across Borders will be for importing and exporting products;

Digital Readiness to identify if consumers in the target market have the technologies and knowledge to access and use your products;

Entry Barriers in the market could prevent you from entering it and earning your fair market share.

You can also utilize EpiProdux to conduct in-depth market research, such as measuring Market Size and performing Market Validation. Both provide you with an invaluable look at:
Demand

Revenue Model

Purchase Frequency

Total Available Market (TAM)

Serviceable Market Segment (SAM)

Serviceable Obtainable Market (SOM)
Use EpiProdux to calculate your revenue, market share, and other crucial data to make informed decisions. This can prevent you from investing in products that may not generate adequate ROI or affect your reputation. 
The Market Validation section enables you to run Experiments to validate products before spending money and time on them. Distribute surveys, check demand, and analyze fashion industry sales data to estimate your SAM size realistically. 
Conclusion
Any fashion brand selling clothing and apparel can benefit from market research and competitive analysis. It's simpler than ever to do well, thanks to the variety of online channels to interact with consumers. It can empower you with the data to make intelligent choices about your products, marketing, and more. 
EpiProdux simplifies market research and competitive analysis so you can gather the information you need in a centralized platform. Access essential feedback from customers and data to understand how you can impact your target market.
Want to learn more about how this platform works and how it can benefit you? Try EpiProdux today with a free trial!